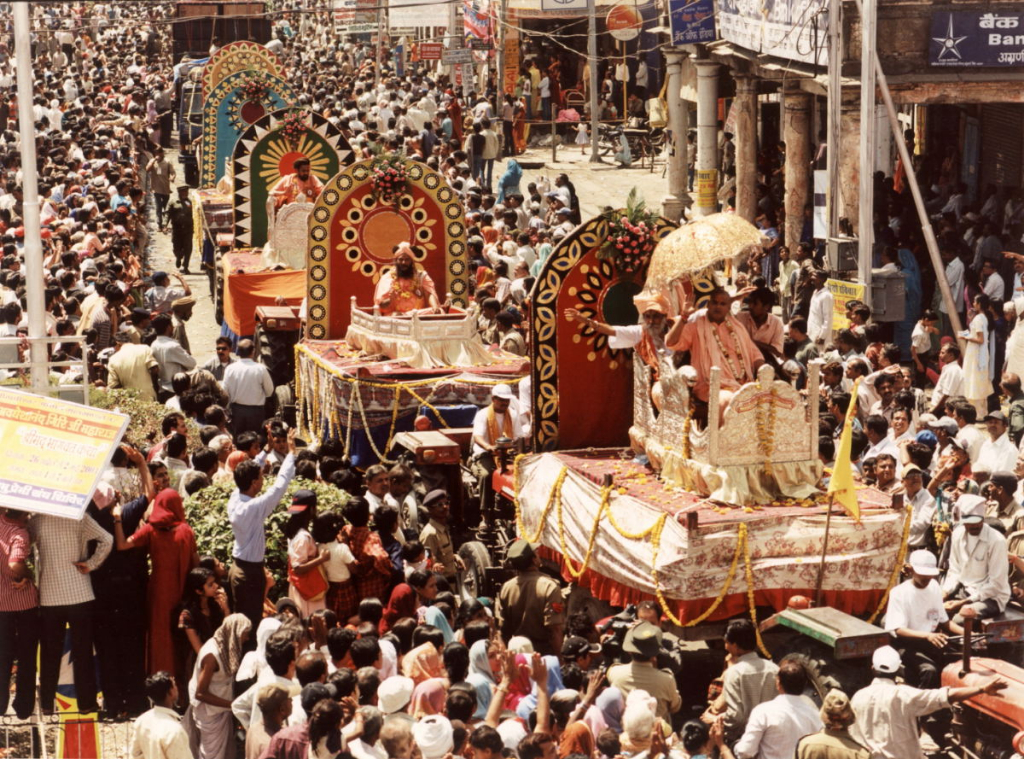 14 Jan

Akharas At Simhastha Kumbha Mela Ujjain

Posted at 17:25h

in

Akharas at Kumbh

,

Akharas at Kumbh

,

astuff

,

astuff

,

Ghat Ujjain

,

Hello world

,

Kshipra River

,

Kumbh Mela

,

Kumbh Mela Ujjain

,

Maha Kumbh Mela

,

Panchkroshi Yatra

,

Shahi Snan

,

Ujjain Simhastha Kumbh 2016

,

Uncategorized

,

Workshop

,

Workshop

0 Comments
Different sectors of saints, vairaghis, and yogis are organised and belong to different akharas. "Akhara" basically means a wrestling area. It is believed that Akharas came its existence in 8th century AD. They were established by Adi Shankaracharya and back then were seven in number: Mahanirvani, Niranjani, Juna, Atal, Avahan, Agni and Anand Akhara. They were formed to strengthen the Hindu religion and unify devotees who practice various hindu rituals, customs and beliefs.
Presently, there are three major Akharas; Sanyasi, Bairagi and Nirmal and three minor: Atal, anand and Avahan. Akharas are further divided into different camps in accordance with the god they worship. Followers of Lord Vishnu come under Vairagi or Vaishnava Akhara, those who worship Lord ShIva come under Shaiva Akhara and the ones who follow Lord Brahma come under Kapalwasis.
According to some text, Akharas are further divided into eight davas and 52 marhis. Every marhi is lead by a Mahant and performs all the spiritual activities under him. Shree Panch (representing Brahma, Vishnu, Shiva, Shaktiand and Ganesha) forms the central administrative body of any Akhara. Every Kumbha Mela witnesses the election of this five member governing body. They are elected for a period of four years. The Juna Akhara (in terms of number of saints) is the biggest Akhara. Every Akhara is headed by Acharya Mahamandaleshwar, followed by Mahamandaleshwars, Mandaleshwaras and Shree Mahants. During the holy bath at the Kumbha Mela, the main bathing site is surrounded by saints on chariots and elephants who first take the holy dip in the sacred river, following which the devotees and ordinary visitors are allowed to go ahead with Shahi Snan.
Detail Of Akharas
Sr. No
Akhara's Name
Contact Person
Head Office
1
Shri Panchayati Taponidhi Akhara
Shri Mahant Laltagiriji Maharaj (Sachiv)
Mahant Shri Vishwanath Giri ji Niranjani Akhara, Badnagar Road, Ujjain
Shri Panchayati Taponidhi Niranjani Akhara
Mayapur Haridwar, (Uttaranchal)
Shri Mahant Ramanand puri ji Maharaj (Sachiv)
Shri Panchayati Taponidhi Niranjani Akhara
Mayapur Haridwar, (Uttaranchal)
2
Shri Panchayati Anand Akhara
Shri Mahant Sagaranand ji Maharaj
Shri Panchayati Anand Akhara
Trayambkeshwar, Distt. Nasik, Maharashtra
3
Shri Panchdashnaam Juna Akhara
Shri Mahant Parmanand ji Saraswati (Sabhapati)
Peer Mahant Ramgiri Pratinidhi Rameshwar Giri Datta Akhara, Ujjain
Shri Panchdashnaam Juna Akhara, Bada Hanuman
Ghat Kashi, Varanasi (U.P.)
Shravannath Nagar Haridwar
Shri Mahant Uma Shankar Bharti Ji Maharaj, (Sachiv)
Shri Panchdashnaam Juna Akhara, Bada Hanuman
Ghat Kashi, Varanasi (U.P.)
Shri Mahant PremGiriji Maharaj, (Sachiv)
Shri Panchdashnaam Juna Akhara, Bada Hanuman
Ghat Kashi, Varanasi (U.P.)
Shri Mahant ji Maharaj (Sachiv)
Mayadevi Bhairav Akhara Haridwar (Uttaranchal)
Kankeshwari Devi Ashram
Shri Mahant Surendra Giri Ji, Maharaj (Sachiv)
Peer Mahant Ramgiri Pratinidhi Rameshwar Giri Datta Akhara, Ujjain
Mayadevi Bhairav Akhara Haridwar (Uttaranchal)
4
Shri Panchdashnaami Avahan Akhara
Shri Mahant Shiv Shankar Giri ji Maharaj (Sabhapati)
Pratinidhi : Shri RajShekhar Tripathi, Bada Sarafa, Ujjain
Shri Panchdashnaami Aavhan Akhara
Ashwamedh Ghat, Kashi Varanasi (U.P.)
Shri Mahant Prem Puri ji Maharaj (Sachiv)
Shri Panchdashnami Avahan Akhara
Ashwamedh Ghat, Kashi Varanasi (U.P.)
5
Shri Panch Agni Akhara
Shri Mahant Gopalanand Ji Maharaj (Sabhapati)
Mahant Shri Sudamanand Ji Rajrajeshwar Hanuman Mandir, Pool k niche, Sindhiya Dharmshala k paas, Ujjain
Shri Panch Agni Akhara, Shambhupanch Agni
Akhara, Mu.Po. Bilkha, Junagadh (Sourashtra)
Gujrat
Shri Mahant Govindanand Ji Maharaj (Sachiv)
Shri Panch Agni Akhara, Shambhupanch Agni
Akhara, Mu.Po. Bilkha, Junagadh (Sourashtra)
Gujrat
6
Shri Panchayati Mahanirvani Akhara
Shri Mahant Prakashpuri Ji Maharaj (Sachiv)
Shri Mahant Prakashpuri Ji Maharaj (Sachiv), Shri Panchayati Mahanirvani Akhara
Shri Panchayati Mahanirvani Akhara,
Kankhal, Haridwar (Uttaranchal)
7
Shri Panch Atal Akhara
Shri Mahant Rajgiriji Maharaj, (Sabhapati)
Mahant Shri Premgiri ji Maharaj
Shri Shankargiri ji Maharaj, (Sachiv)
Shri Panch Atal Akhara
Kankhal, Haridwar (Uttaranchal)
8
Udasin Akhare
Pratinidhi : Shyamdas ji Maharaj
Shri Panchayati Bada Udasin Akhara
Shri Mahant Raghumuni ji Maharaj
Shri Panchayati Bada Udasin Akhara
Ram Ghat Ujjain
9
Shri Panchayati Udasin Naya Akhara
Shri Mahant Manohardas ji Maharaj, (President)
Shri Jagtar Muni, Mod Dharmshala k Paas, Ramghat, Ujjain (Jakhira Prabandhak)
Shri Panchayati Udasin Naya Akhara,
Kankhal, Haridwar (Uttaranchal)
Kankeshwari Ashram
Ashok Nagar Gujrat
10
Shri Panchayati Nirmal Akhara
Shri Mahant Gyandev Ji Maharaj
Shri Darshan Singh ji, Nirmal Akhara, Badhnagar Road, Ujjain
Shri Panchayati Nirmal Akhara
Kankhal Haridwar Uttaranchal
11
Bairagi Akhade
Shri Mahant Shivnandandas Ji Maharaj
Mahant Shri Sudhir Pujari, Sansthan Shri Kalika Mandir, Panchwati Nasik Sthaniya: Mahant Shri Bhagwandas ji Beghampura Ujjain.
(Ramadal Vaishnav)
Shri Panchramanandaye Nirvani Ani Akhara,
Shri Panchramanandaye
Shri Bihariji Mandir Barana Bamori
Nirvani Ani Akhara
Distt. Tikamgadh (M.P.)
Shri Mahantdas Ji Maharaj
Mahant Shri Premdas ji, Khaki Akhara, Khak Chowk Ankpat Ujjain
Shri Panchramanandaye Nirvani Ani Akhara,
Hanumangarhi Ayodhya (U.P.)
Shri Mahant Jagannathdasji Maharaj,
Mahant Shri Premdas ji, Khaki Akhara, Khak Chowk Ankpat Ujjain
Khaki Akhara (Nirvani Ani), Lambe Hanuman
Mandir Lambe Hanuman Road Railway Station k paas,
Surat Gujrat
12
Shri Panch Digambar Ani Akhara
Shri Mahant Keshavdas ji Maharaj
Mahant Shri Kanhaiyadas ji Ankpat Road, Ujjain
Shri Panch Digambar Ani Akhara
(Digambar Akhara) Ayodhya U.P.
Mahant Shri Bhagwandas ji, Beghampura Ujjain
Shri Rambela Math Shastri Marg Dungarpur
Rajesthan
13
Shri Panchramanandiya Nirmohi Ani Akhara
Shri Mahant Ram Ashraydas ji Maharaj
Mahant Shri Raghuveerdas ji, Khak Chowk Ujjain
Shri Panchramanandiya Nirmohi Ani Akhara
Nirmohi Akhara, Ramghat Chitrakoot,
Mahant Shri Bhagwandas ji Beghampura Ujjain
Distt. Banda (U.P.)
Table Source: http://www.simhasthujjain.in/about-simhasth/akhara-details/
Visit for Registration at Yoga Kumbha Mela 2016 – https://www.yogalife.co.in/seminar-home/